We love writing these guides for you and sometimes we are compensated when you use one of our links to buy a product. This doesn't impact the final price you pay. If you want to learn more about how this works, please see our Affiliate Disclosure page.
Cheap fat tire bikes are becoming more and more popular as people are looking for a versatile bike that can be used for a variety of different purposes. Fat tire bikes can be used for commuting, weekend rides, trail riding, and even racing. While there are many expensive fat tire bikes on the market, there are also some great options for those looking for a cheaper option. In this guide, I have found six of the best cheap fat tire bikes available to buy today.
Recommended Cheap Fat Tire Bike
Framed Minnesota Fat Bike
Key Features:
Frame = Aluminum Alloy
Gears = 10 Gears
Brakes = Disc brakes
Wheel Size = 26" x 4"
Weight = 34 lbs 4 oz
---
What to Look for When Buying a Cheap Fat Bike
Weight Limit
It is critical to understand how much weight your fat bike is able to support before taking it out on the road. While the bike itself might appear as if it can support more weight than a standard bike, this isn't always the case.
It is particularly important when attempting to find the best bargain on a bicycle with lower quality materials utilized, which reduces strength, and weight capability.
Generally, you are okay if you weigh less than 300 pounds, but it is essential that you check with the manufacturer if you weigh more than this.
Bike Weight
Another factor to think about is the weight of the bike itself.
Fat tire bicycles are more difficult to pedal than other bikes, making them more difficult to ride up hills or on flat terrain. This is due to bikes having a lot of weight, which becomes harder on downhill and uphill sections.
Weight is also important when it comes to storing your bike in a garage, you may need to lift the bike up and also need brackets that you can safely attach the bike to. If your bike is heavier, you will need to be stronger to lift it and will need a stronger bracket to hold it up.
If you need to transport your bike to where you're riding, such as in your car, you may need to lift the bike up onto the rack. If you find it difficult to lift your bike, it may become imbalanced.
Bikes that are considered to be less costly often use components that are not optimized for being light.
Wheel Size
Fat tire bikes are often available in a wide variety of sizes depending on the manufacturer and the model of bike.
The diameter of the tire is one of the factors for the optimal design of a fat tire bike. Fat tire bicycles generally come with a 20″ or 26″ wheel.
The 20" wheels tend to be smaller frames, designed for older kids and smaller adults.
26" wheels are the most common and are your typical adult bike frame size.
The width of the tires also varies. A fat tire bike can vary from 3.8″ to 5." The most common tire sizes you'll see are 4″ and 4.8″.
Increasing your bicycle's wheel diameter can improve your experience. Larger diameter tires will generally enable you to ride faster, as each rotation of your pedals is driving a larger circumference (depending on the gear ratios of course).
Wider tires will create more drag, resulting in the bike slowing down more, but they will help provide more stability than narrow tires and are stronger on softer surfaces such as sand and snow.
My personal choice for a wheel size is either a 26″ x 4.8″. If you're going to go fat with your wheels, then you might as well go all the way out.
Quality of The Components
Another issue to take into consideration when buying a cheap fat bike is that your budget may compromise the quality of parts included.
Components such as pedals, saddles, and handlebars can differ in quality, in addition to the components, such as drivetrain. Cheaper bikes sometimes cut back the quality of the components to reduce the price of the bike.
If you think you can get away with a cheap frame but have some concerns about the components, you always have the option of upgrading when you can afford to.
Warranty
If you buy an inexpensive bike, there is always the possibility that something might break. This is why you should choose a trusted dealer you can return to if something should happen.
As with most bicycles, bicycles over a certain price range typically come with a lifetime warranty. For cheaper bikes, however, the warranty period may be comparatively short.
Make sure that your warranty covers your bike for a period of time to make sure you've got enough time in the event that something does go wrong with it.
Where the Bike Is Shipping From
Although it may sound like a good idea to think about where your particular fat bike is made, factors like what your warranty covers should be taken into consideration. A manufacturer located within the United States means that you can get in touch with the office in the event of an issue.
There are a number of inexpensive fat bikes with products shipping directly from China. This indicates that even though this doesn't automatically mean they will be of low quality, it does, potentially, mean if there is an issue, you'd have difficulty obtaining assistance from the manufacturer.
Best Cheap Fat Tire Bikes
---
Framed Minnesota Fat Bike
Key Features:
Frame = Aluminum Alloy
Gears = 10 Gears
Brakes = Disc brakes
Wheel Size = 26" x 4"
Weight = 34 lbs 4 oz
If you are looking for a fat bike that's on the lighter end of the scale and under $1,000, the Framed Minnesota Fat Bike is a great choice.
Made from an aluminum alloy, this bicycle weighs less than other bikes in this price range. Its weight was just 34 lbs and 4 ounces.
You're not just getting a lighter mountain bike for your money, but in addition to that, you're getting 10 gears, providing more gears than other bikes for this price range and allowing for greater flexibility when climbing and descending mountains. This is all based on an 11-42 cassette, 28 teeth in the front chainring and a Shimano Deore M6000 drivetrain, getting a good range of gears and high-quality as well.
This bike also has Avid BB5 mechanical disc brakes and 26″ x 4″ wheels, with 60 TPI.
A good choice for those who are beginning their fat-tire bike journey.
---
Mongoose Malus Fat Tire Bike
Key Features:
Frame = Steel
Gears = 7 Gears
Brakes = Disc brakes
Wheel Size = 26" x 4"
Weight = 45 lbs
Of the many entry-level bicycles, Mongoose Bikes are a fantastic choice, and their Mongoose Malus bike is one of their great options.
The steel framework of Malus is ideal for those who are considering buying a fat tire bike because it will provide years of service before requiring an upgrade.
Wheel size: 26″ × 4″, a lot of people will find this bicycle fit well.
It additionally incorporates 7 gears, perfect for scaling small hills, as well disc brakes, made standard.
Weighing 45 pounds, this bike weighs more than other options on the market. Much of the weight is due to its steel frame and lower-end components. You're going to get your money's worth at this price range.
---
SuperBros Fat Tire Men's Mountain Bike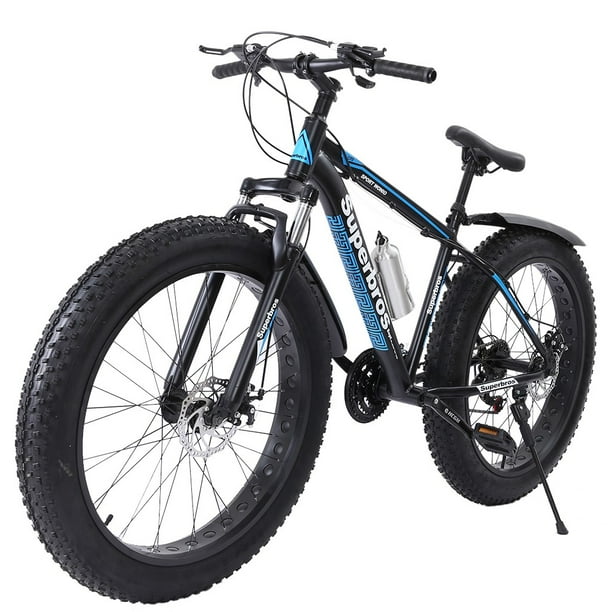 Key Features:
Weight Limit = 440lbs
Bike Weight = 48.5lbs
Wheel Size = 26″ x 4″
The Superbro Fat Tire Bike is a good all-around option for those who want to enjoy a decent ride at an affordable cost.
This bike's aluminum frame is exceptionally rare in its price range; this is not only effective but it's also light. Weighing in at 48.5lbs, it is light at the very low price it comes in at.
It has a maximum physical weight of 440 pounds (more than acceptable), making it an excellent choice for bikes in this price range.
It has disc brakes, a 21-speed gearbox, and front suspension. This bike is a great choice for those who are seeking a low-cost, versatile fat bike to get started at fat bikes.
---
Mongoose Dolomite Men's Fat Tire Mountain Bike
Key Features:
Weight Limit = 350lbs
Bike Weight = 52lbs
Wheel Size = 26″ x 4″
Another exceptional fat bicycle comes from the trustworthy Mongoose brand: the Mongoose Dolomite Fat Tire Mountain Bike.
The bike comes with front and rear disc brakes and a seven-speed gear train. This is on par with other bikes in the range.
This bike is 52 pounds in weight, which is heavy, but not overly heavy for a bike that is priced at around $500. This is because of the cheaper, heavier components and the steel frame, which does not lead to the bicycle being the lightest.
Just like other bikes on this list, the wheel size of 26″ is standard. And the tire width of 4″ matches the specifications of other bikes on this list.
It can take a significant amount of weight with this bike, as it has a weight limit of 350 pounds.
A great choice for someone on a limited budget interested in buying a fat bike.
---
Krusher Men's Dynacraft Fat Tire Bike
Key Features:
Weight Limit = 275lbs
Bike Weight = 45lbs
Wheel Size = 26″ x 4″
The Krusher Men's Dynacraft Fat Tire Bike is a solid, entry-level fat bike for those on a budget.
This bike comes with front and rear disc brakes like those of other bikes in the price range.
Weighing just 45 pounds, this bike is close to the average for bikes priced at $500 or under, which are mainly on account of the cheaper, heavier components and the steel-made body.
An affordable fat bike for beginners, as well as others seeking to purchase a first fat bike.
---
Sokhug 26″ Fat Tire Bike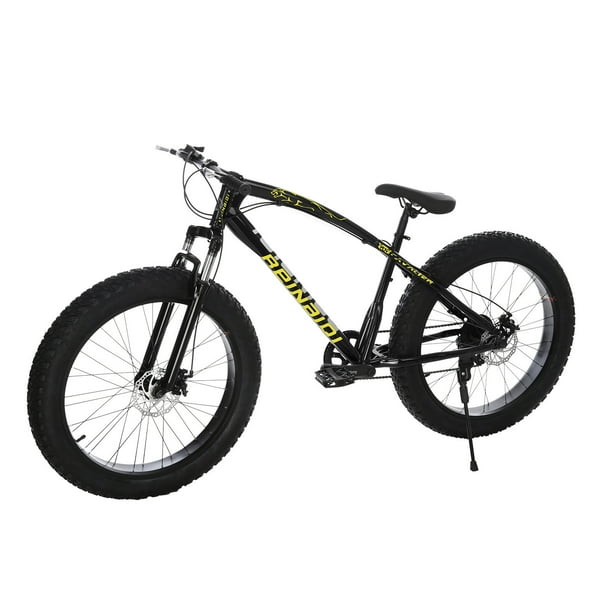 Key Features:
Weight Limit = 250lbs
Bike Weight = 62lbs
Wheel Size = 26″ x 4″
If you're on a tight budget, and you intend to find a brand-new, low-cost fat-tire bike with lots of features, the Sokhug Fat Tire Bike is a worthy contender option for you.
The maximum load capacity is only 250 pounds, making this bike high enough for most fat-bike riders.
The bike is also on the heavy side at 62 lbs, which is around 50% heavier than other bikes on this list.
This bike has loads of features that make up for it being heavy. It has a 21-speed drivetrain, so it is great while taking a trip uphill.
You have the advantage of front suspension, which will help soak up off-road shocks.
---
What Is the Lowest Price of A Fat Bike?
Fat bikes are becoming more and more popular, with good reason! They're perfect for winter riding and provide a really fun experience. But what is the lowest price of a fat bike? The cheapest quality fat bikes start at around $400, but there are better quality bikes available for $1000. The main difference between these two prices is the quality of the bike. The $400 fat bikes will typically be made of lower-quality materials, while the $1000 bikes will be made of higher-quality materials. This means that the cheaper bike will likely need to be replaced or repaired more often than the more expensive bike. But don't let this scare you away from buying a cheaper fat bike! If you're just starting out and aren't sure if you'll love riding a fat bike, then it's definitely worth considering buying one at a lower price point.
Are Cheap Fat Bikes Any Good?
Cheap fat bikes are ok. If you are looking for a great bike but don't have a lot of money to spend, a fat bike is a great choice. Some of the reasons why you might want a fat bike are the fact that they are durable, versatile, and can be ridden in a variety of terrain. However, they may not be as fast or efficient as more expensive models. So if you're looking for a high-performance ride, you may want to consider spending more on a bike. But if you're just starting out or are on a budget, a cheap fat bike will get the job done.
Where to Buy Cheap Fat Tire Bikes?
Fat tire bikes are all the rage right now, and for good reason! They're perfect for cruising around town, hitting the trails, or just getting some exercise. But they can be a bit pricey, especially if you're not sure which one to buy. So where's the best place to find a cheap fat tire bike?
Well, Walmart is always a great option. They often have fat tire bikes on sale for cheaper than anywhere else. And if you're an Amazon Prime member, you can get some great deals on fat-tire bikes there as well. Costco is also a great place to find affordable bikes – just be sure to compare prices before you buy.
So no matter where you go, there's definitely a cheap fat tire bike out there waiting for you!
Who Makes Cheap Fat Tire Bikes?
A few years ago, fat tire bikes were a niche product, only bought and ridden by serious mountain bikers. However, in the past few years, they have become increasingly popular with recreational riders due to their stability and ability to ride on a range of surfaces, including sand and snow. Fat tire bikes can now be found in most major bike retailers, often at a high price point. However, there are a few companies that sell cheap fat tire bikes that are made in China and imported into the United States. You will generally find these bikes sold by Costco, Walmart and Amazon.
If you want a US-made bike brand that is affordable, Framed bikes have an entry-level fat bike priced at around $1,000. This is on the upper end of cheap but is a great option for those wanting something that isn't just a basic fat bike.
Mongoose is another company that sells affordable fat tire bikes, with their basic models coming in under $500. Whilst these are designed in the US they are generally manufactured in China.
Summary
So there you go, I hope that you have been able to find a bike that fits your budget and also provides the right balance for you between price, quality and features.
For me, the Framed Minnesota is the best cheap fat bike and for those happy to stretch their budget to the $1,000 mark, you really can't go wrong.