We love writing these guides for you and sometimes we are compensated when you use one of our links to buy a product. This doesn't impact the final price you pay. If you want to learn more about how this works, please see our Affiliate Disclosure page.
If you're serious about getting a fat bike, you are probably looking to spend a good amount of money to get the best fat bike you can. In this guide, I have pulled together the best fat tire bikes under $2000, in the hope of helping you make the best decision for you.
As you can imagine, there are a lot of fat bikes available once your budget gets up to $2000, with some of the best bike brands offering really good fat bike options.
Best Fat Bikes Under $2000
When spending up to $2000 on a fat bike, you get a lot more than just an entry-level option. These bikes will come with really good quality components and very sturdy frames. They will also offer great versatility, meaning your chosen fat bike can be your only bike, as it can be used on any surface.
---
Salsa Mukluk Advent X Fat-Tire Bike
Product Features:
Gears = 10
Bike Weight = 33lbs
Tire Size = 26″ x 4.6″
Frame Material = Aluminum
Brakes = Hydraulic Disc
The Salsa Mukluk Advent x Fat Tire Bike is a top-end fat bike at a really good price.
This fat bike has been designed using 6000-series aluminum, which is designed to be strong without creating too much weight.  This will make it much easier to take this bike off-road and have fun without getting too tired lugging a heavy bike around with you.
The Salsa Mukluk features MicroSHIFT CS-H104 11-48T rear cogs, with a Samox Direct Mount 30T from chainring.  This means you get 10 gears for taking your bike off-road or just riding through the streets nearby.
This bike also comes with Tektro HD-M275 hydraulic disc brakes, which will give you plenty of stopping power, even when heading downhill fast.
In terms of wheels, this bike comes with 26-inch rims, which feature 4.6-inch 45NRTH Dillinger 5 Tubeless-ready tires.  This gives you a great amount of width for balance as well as some high-quality tires to ride on.
Why we love it:
This is a feature-rich, high-quality bike that will last for years.  The wide tires and gear range will give you lots of fun on your fat biking adventures.
---
Norco Bigfoot 3 Fat Bike
Product Features:
Gears = 11
Bike Weight = 34lbs
Tire Size = 27.5″ x 4.5″
Frame Material = Aluminum
Brakes = Mechanical Disc
The Norco Bigfoot 3 is the cheapest of the Norco Fat Bikes, just squeaking under the $2,000 price mark.
For your money, you get a butted X6 aluminum alloy frame, which provides strength whilst also keeping the weight down to just 34 pounds.  This means you won't feel like you are being held back by the weight of the bike when riding compared to some heavier bikes on the market.
This fat bike comes with a Shimano Deore CS-M5100 rear cassette, with 11/51T cogs providing 11 speeds.  This is connected to a Samox Alloy 30T crankset, giving you a solid range of gears for powering this bike.
For braking, the bike has Tektro MD-280 mechanical disc brakes on the front and the back. Whilst these aren't hydraulic brakes, which are known for providing more stopping power, the easier maintenance can be a big plus.
The rims on this bike are 27.5 inches and are fitted with 4.5 inch Vee Snow Avalanche Studdable tires.  This makes this bike great for speeding through the snow, due to the large rims delivering more distance with every rotation of the wheel.
Why we love it:
This fat bike is designed for aggression in wintery conditions, making it really fun to ride in the snow.
---
Framed Minnesota LTD Fat Bike
Product Features:
Gears = 11
Bike Weight = 34lbs
Tire Size = 27.5″ x 4.5″
Frame Material = Aluminum
Brakes = Mechanical Disc
If you want a bike that is fun to ride, high quality and very affordable, the Framed Minnesota LTD Fat Bike is a great choice of fat bike.
The Minnesota LTD is built with an exclusive Oversized 6061 Aluminum Alloy frame, which gives you a really strong frame, without adding too much weight.  This is reflected in the overall weight of the bike, which comes in at around 35 pounds.  This is a good weight, coming in around average for this price range.
This bike is equipped with a Shimano SLX 12-Speed Cassette, which features 10-51t chainrings.  This gives you 12 gears with a very good range to select from, making it perfect for riding on flats and small hills.  On the front, you get a Samox 175 32t chainring.
You also get a set of SRAM Level Hydraulic Disc Brakes, giving you great stopping power when you need it.
In terms of rims, this bike comes with 27.5-inch wheels fitted with Terrene Cake Eater 27.5-inch x 4-inch tires.  Whilst these are on the narrower side for "fat" tires, you will still get a superior grip on slippy surfaces compared to MTB tires, as well as reduced rolling resistance compared to wider fat bike tires.
Why we love it:
The Framed Minnesota LTD is a great fat bike offering you very good components on a light, durable bike frame.
---
Trek Farley 5 Fat Bike
Product Features:
Gears = 10
Bike Weight = 33lbs
Tire Size = 27.5″ x 4.5″
Frame Material = Aluminum
Brakes = Mechanical Disc
The Trek Farley 5 is one of three awesome fat bikes offered by Trek, a brand synonymous with quality bikes.
The Farley 5 is the cheapest of the Farley range, just squeaking under the $2000 mark.
This aluminum-framed fat bike weighs just 33 pounds, making it the lightest fat bike on this list.  If you are really wanting to save yourself a couple of pounds on your fat bike weight, this would be a good choice for you.
For gears, you get a Shimano Deore M4100 11-46t, 10-speed cassette, giving you a range of gears on par with other bikes in this price range.  This is coupled with a Race Face Ride 28T steel ring crank, which is smaller than most on this list.  This means you will have slightly smaller gearing than other bikes giving you more control at lower speeds, which is great for technical sections of riding.
It is also equipped with Avid G2 CleanSweep Mechanical Disc Brakes, meaning you can slow down with ease when needed.
For wheels, you get 27.5-inch rims, fitted with 4.5-inch wide Bantrager Gnarwhal tires.  These are very durable tires, with a TPI of 120.  This is very high compared to other bikes, meaning you have very durable tires which are less likely to puncture.|
Why we love it:
A great fat bike from a great bike brand.  The combination of a light aluminum frame and high-quality components make this a very durable bike for the long term.
---
Surly Ice Cream Truck Fat Bike
Product Features:
Gears = 12
Bike Weight = 35lbs
Tire Size = 26″ x 4.8″
Frame Material = Steel
Brakes = Mechanical Disc
The Surly Ice Cream Truck is not only a bike with a great name, but it is also a solid fat bike option.
Unlike most bikes at this price point, the Ice Cream Truck uses steel for the frame. This is a specifically engineered Chromoly steel, designed and made by Surly.  So whilst you aren't getting lightweight aluminum for your money, you are getting a very well made, strong and durable frame material made specifically for bikes.
This bike comes with Shimano SLX CS-M71000 10-51t rear cogs, giving you 12-speeds on the back for tackling hills and flats.  The crankset is the Race Face AEffect with DM30t Steel Ring.
The brakes are Tektro Gemini HD-M520 Mechanical Disc Brakes on both the front and back, which gives plenty of stopping power when you need it,
The rims are Surly's own "My Other Brother Darryl" 26-inch wheels, which are fitted with Surly Bud & Lou 4.8 inch, 120 TPI tires.  These tires and designed to be very durable and provide a very "fat" profile for riding across soft surfaces.
Why we love it:
The Ice Cream Truck is a great choice for winter riding, with very fat tires all built on an incredibly durable frame.
---
Giant Yukon 2 Fat Bike
Product Features:
Gears = 12
Bike Weight = Unknown
Tire Size = 27.5″ x 4.5″
Frame Material = Aluminum
Brakes = Mechanical Disc
The Giant Yukon 2 is the cheaper of the two fat bikes available from Giant, one of the biggest bike manufacturers in the world.
This bike is built with an ALUXX SL-Grade Aluminum material, giving you a strong and durable bike frame without adding unnecessary weight.
The gearing is built using a Shimano HG500 12-speed cassette, with a range of cogs from 10-51t.  Having 12 gears to choose from is always a bonus when it comes to fat bike riding and the range of gears here is great for both commuting and heading off-road.  On the crank you get a 28t ProWheel MPX, providing a low ratio for technical riding.
You also get a set of SRAM Level Hydraulic Disc Brakes, which will provide great stopping power, particularly when speeding downhills.
The wheels are based around a Giant FB 27.5 inch wheelset, fitted with Maxxis Colossus 27.5-inch x 4.5-inch tires.  This larger wheel size delivers more power per pedal than a 26-inch wheel and the tires are a great balance of width for balance and not being too wide that the bike feels sluggish.
Why we love it:
A solid choice from a very well known bike brand.
---
Kona Woo Fat Bike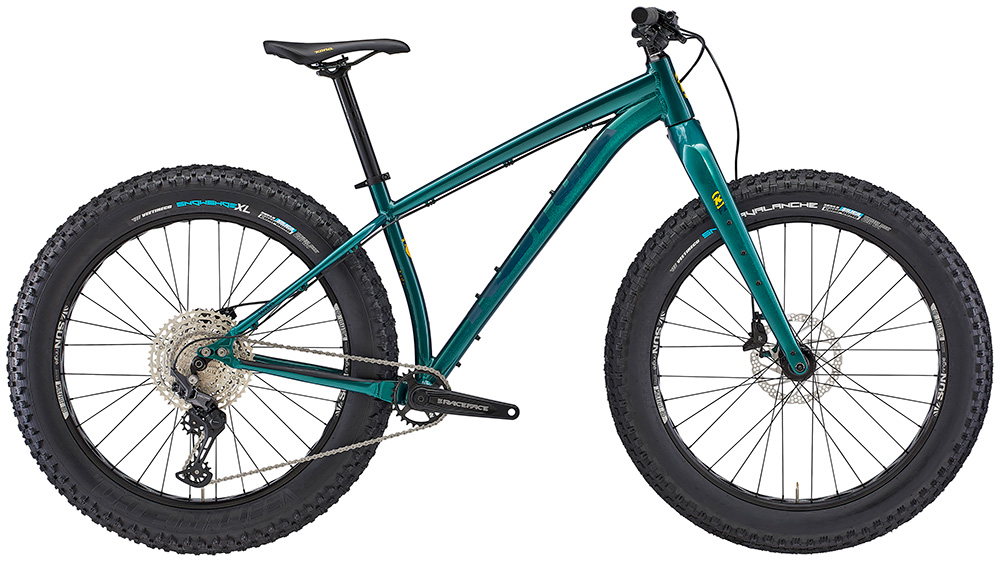 Product Features:
Gears = 12
Bike Weight = Unknown
Tire Size = 26″ x 4.8″
Frame Material = Aluminum
Brakes = Hydraulic Disc
The Kona Woo has been designed with the bikepacker in mind, offering plenty of anchor points for you to attach various bags of gear.
Made from a Kona Fat 6061 Aluminium Butted material, the frame is light and strong, making it great for off-road rides as well as commutes.
The Woo comes with 12 speeds, based around a Shimano Deore 11-51t set of cogs.  Coupled with the 28t Ride Wide Narrow chainring, you get plenty of gears to work with, whether you are hitting the trails of the pavements.
The Shimano M4100 Hydraulic Disc Brakes give you excellent stopping power when you need it.
The wheels are based on 26-inch tubeless-ready rims, with a Vee Tire Snow Avalanche 4.8-inch tire on the front and Vee Tire Snowshoe XL 4.8-inch tires on the back.  This gives you a wide wheelbase for taking your bike out in the snow and taking on pretty much any weather that can be thrown at you.
Why we love it:
Designed with bikepacking in mind, this bike comes packed with anchor points to hook your bags onto.
---
How Do I Choose a Fat Bike Under $2000?
Fat Bike Frame Material
The material of the frame of your bicycle is among the initial points to think about. The material of the frame will impact both the weight and durability of the bike you select.
Steel, aluminum, and carbon fibre are all popular materials used to make bikes. Their attributes vary according to the type of material used. Before purchasing, make sure you consider the advantages and drawbacks of each material. Selecting the right frame for you is a matter of striking the right balance between price, durability, and weight.
Steel Frame Fat Bikes
Steel-frame bicycles are incredibly sturdy and are available for all skill levels. They're a popular option for those purchasing their first bike.
In contrast to aluminum, however, steel is the heaviest material to use when building bicycle frames.
Steel-framed bikes are generally less expensive and cost less bikes at the budget end of the scale will be consistently composed of steel.
Aluminum Frame Fat Bikes
Aluminum is a lightweight metal that has been commonly used in bike frame making for many years. Formerly, classic-steel frames were the most popular option, but now, aluminum bikes have become more popular due to their weight savings and being more eco-friendly.
Aluminum frames aren't commonly made entirely of it; they often incorporate magnesium, copper, or zinc to make different types of frames.
Lightweight aluminum bikes are famous for their versatility, enabling riders to normal rides or to mountain bike competitions.
These bikes made from aluminum can cost a little bit more than steel-framed bikes, with the entry-level models being marginally close to the price of mid-range steel-framed bikes. Because they are less susceptible to damage and require less maintenance, they're great for off-road riding.
Carbon Frame Fat Bikes
Frames that are made with carbon tend to be more expensive than frames that are made of steel or aluminum, because carbon is more expensive.
Carbon fibre is a highly breakable material, so it is often used with a resin to create a composite material. This process is then used to create a variety of materials that may be shaped into the desired form for use in bike frames, electronics casings, and even medical applications.
Because of their lighter weight and considerable strength, carbon frames are in demand among many mountain bikers. These frame materials are very durable and resistant to pressure, which makes them excellent choices for mountain biking on rough terrain.
The frames sometimes employed by FAA regulations, such as metal tubing, can fail at all times. Should the crash take place, there's no way to discover the material's quality, apart from putting your job or fun at risk. You may only figure out if the tubing becomes brittle by putting it through stress.
Fat Bike Components
Bikes are not just frames and wheels; they also include other components, such as handlebars, brakes, gears and drivetrains. However, the frame and wheels are particularly pricey parts of the bike, and most people are inclined to spend a good amount of money on them.
To find a fat bike that's perfect for you, you should take into account the sorts of components that suit your needs and how durable they'll be. It is also advisable to research the bike's warranty coverage, as well as other useful details.
The following are some of the key components you should think about:
Gears/Drivetrain – How much flexibility do you require for off-road and uphill mountain biking? If you answer with a great deal of flexibility, we recommend that you go with a huge number of gears. If you answer with just a few gears, we recommend that your gears just have the ability to travel on flat roads.
Brakes – Do you want an easy-to-maintain option, such as V-brakes, or is it more important for you to engage in a more reliable option, such as disc brake systems?
Handlebars – Do you want a flatter handlebar for more classic style or a curved handlebars for more options regarding your hand position while riding?
Tire and Wheel Size
When shopping for fat bike tires, be sure to look at the height and width of the tires and the wheels.
Tire Size
When it comes to tires, the bulk of people do automatically consider the width of the tire. This is where the term "fat" tires came from, as they are generally wider than 3.8 inches. The most widely sold tires of this type tend to have a diameter of 5 inches.  In the most affordable versions of fat bikes, tires typically have a width range of 4.0 inches. More expensive versions can also include tire sizes up to 4.8 inches.
Tire width is important as it affects how the bike rides on different surfaces.
Wider tires typically bring about more rolling resistance, which will reduce your bike's speed when cycling on a flat surface, such as a road and pavement. The bike may feel sluggish on these types of surfaces. Tires with a larger diameter typically have a slimmer shape and are a tougher challenge to roll on flatter terrain, such as those often seen in densely populated urban areas.
However, wider tires are good for riding on looser surfaces, such as snow and sand, as the extra surface area allows you to spread your weight and ride across the top of the surface.
Broad tires are generally a better option for rough terrain. If your selection of bike is largely for paved routes, choose narrow tires so as to deliver a smoother ride and better overall performance. For bikes that can withstand rougher surfaces, consider wider tires that are about 4.8 inches or more.
Wheel Size
The diameter of the wheel describes the internal diameter of the rim, which means the distance from one side to the other.
Wheel size can make a big difference in finding the bicycle that is the most comfortable for you and gives you the best riding experience. Wheel sizes may vary considerably among bike styles, so make sure to choose the one that will be best-fit for your riding preferences.
Most of these bikes will feature a 26-inch wheel size, which has been proven to be the most popular size for riders of fat bikes. Most adults in this age range will reach the riding position most comfortable for them with this wheel size. If taller or shorter than this height range, you may choose a bicycle with a 26-inch wheel, but you may need to make adjustments to ensure the handlebars or seat is at a comfortable height for you.
For anyone who is 5 foot or shorter, there are several alternative wheel sizes available. For individuals on the shorter end, a 24-inch wheel may be appropriate. For people who are taller, 27.5-inch bikes are pretty fairly common with some manufacturers producing any bikes for a 29-inch wheel.
Bike Weight
One more thing to think about when selecting your fat bike is the bike's total weight.
A heavy bicycle may feel strong and sturdy, but there are two disadvantages as a result of that simplicity.
Not only are heavier bikes much difficult to move around, but they may even be difficult to store in your car or garage. The greater weight of the bicycle makes it more challenging to carry and store at home or on the road.
The heavier your bike gets, the harder it's going to be to control up hills. If you're planning to do a lot of athletic riding with your fat bike, you should opt for a lighter bike so that it won't feel quite so sluggish uphill.  When climbing a mountain, the weight of your body pulls you back down.
However, if you are planning to do predominantly downhill riding, a fat bike will be an excellent choice. Use the force to your advantage!
Summary
I hope you have enjoyed reading this guide and that it has helped you to find a fat bike within your budget. For me, the Salsa Mukluk Advent X is the best fat tire bike under $2000.
Andy is an avid cyclist who enjoys nothing more than a ride out in the hills.  Competing in track, road, time trial and mountain bike events in the past, he prefers slower rides out with his family these days.