We love writing these guides for you and sometimes we are compensated when you use one of our links to buy a product. This doesn't impact the final price you pay. If you want to learn more about how this works, please see our Affiliate Disclosure page.
I love cycling and in particular fat bikes. Not only do they look cool, but they are so versatile, making them a great all-weather machine.
After finally convincing my wife that we should look to get her one, I realised that most of the fat bikes that came to mind simply wouldn't be suitable. It turns out that most fat bikes are designed to fit the average male rider and it is only those that have smaller frame sizes that would be suitable for women.
So that you don't struggle as I did to find make the right choice, I have rounded up in the following guide the best fat bikes for women that I could find. I have also included in this guide some of the areas for you to consider before making a purchase, to make sure you get the right fat bike for you.
Sound good? Then read on…
---
Recommended Fat Bikes For Women
Framed Minnesota Women's Fat Bike

Brakes = Mechanical Disc brakes

Salsa Mukluk Microshift Advent X Fat Bike

Brakes = Hydraulic Disc brakes

Brakes = Mechanical Disc brakes

Wheel Size = 27.5" x 3.8"

Brakes = Mechanical Disc brakes

Framed Alaskan Carbon Studded

Brakes = Hydraulic Disc brakes

Wheel Size = 27.5" x 4.0"
---
What to Look for When Buying a Women's Fat Bike
When looking for a women's fat bike, the following are some of the key factors you should consider.
Frame
The size and shape of the fat bike frame is the first thing you should consider.
Unless specifically advertised as for women, most bike frames are designed for the average person, not specifically male or female.  With women on average being smaller than men, this means that you should consider your size in relation to the average human, rather than female when thinking about selecting a bike frame size.
This means that if you are an average height female, you will probably need a bike that is between a small and medium-size.  Unfortunately, manufacturers don't stick to the same sizes, so make sure you check the details on the manufacturers' website before purchasing.
The shape of the frame is also an important consideration.  With women being generally shorter than men, a female-specific bike will have a shorter stack (the height between the from chainrings and the seat post) and normally a shorter reach (distance between the handlebars and seat post).
Again, you should make sure you check the details on the manufacturers' website to make sure it is a comfortable fit for you.
Frame Material
The material that the bike is made from is also another thing to consider as this will have an impact on the durability of the bike as well as the weight.
In general, there are three main materials used for the manufacturer of fat bikes, each of which has its advantages and disadvantages. Selecting the right frame material for you is a matter of personal preference, so below is a summary of the main materials used and the pros and cons of them.
Steel Frames
Steel is known for its strength and durability, and the same applies fr bikes as well.  For many years, steel was the go-to material for building bikes as it was cheap to buy, very easy to shape into the tubes needed for the frames and could be welded together very easily.
Steel bikes will last a long time, as long as you keep the paint touched up and avoid the frame getting rusty.
One of the main downsides of steel bikes is their weight.  Steel has not necessarily been designed to be a light material and as such steel bikes tend to be heavier than bikes made from other metals.
On the whole, if you are looking for a budget fat bike, a steel frame is a good choice as you know you will get a decent bike that will last a long time.
Aluminum Frames
Once reserved for those with a bigger budget, over the past decade aluminum frames have come down in price significantly, making them a much more affordable option.
Aluminum frames are generally considered a lighter alternative to steel framed bikes, making them much easier to manoeuvre than steel-framed bikes.  This is particularly useful when riding off-road and on looser surfaces, such as snow and sand.
Bike frames are not made of pure aluminum, as they are usually alloyed with another metal to help improve the strength of the frame.  This means that you get a lighter bikes frame than steel, but a frame that is still just as strong.
Aluminum framed bikes tend to be more expensive than most steel frames bikes, with the lowest end aluminum frames being comparable in price to a mid to high-end steel framed bike.
Carbon Frames
Fat bike frames that are made with carbon are usually a lot more expensive than those made with steel and aluminum, however, there is a very good reason for this.
Carbon framed bikes are far lighter than other frames, making them much easier to ride and throw around when riding offroad.
Whilst carbon is very light, it is actually a very brittle material compared to other metals.  This is why carbon fibre is mixed with resin to create a composite material, which is then shaped to create the material for manufacturing bike frames.  This combination results in a very strong and light material, perfect for creating really light bike frames.
If budget isn't an issue for you, then a carbon framed bike is the way to go.
Gears
The number of gears you get with your bike is another factor to think about when choosing your fat bike.
For most people, a fat bike is going to be used in numerous situations, which will include riding on flat surfaces as well as uphills, both on and off-road.
Having a wide range of gear options is therefore important as it gives you the flexibility to apply more power when wanting to go quickly on the flats and downhill, as well as the option to drop down and spin your way up the hills.
Brakes
Choosing a bike with a good set of brakes is also something you should look out for, as some work better than others and are easier to maintain.
The following are just some of the brake types you are most likely to encounter with fat bikes.
Mechanical Disc Brakes
Mechanical disc brakes use a wire to help slow you down when you pull your brakes.  The wire is attached to your brake lever at one end and to the brake pads on your wheel.  When you pull the brake lever, the pad closes together against a metal disc, which is on your bike rim.
These brakes are known for being very reliable as well as fairly easy to maintain when compared with other brakes.
Hydraulic Disc Brakes
Hydraulic disc brakes are similar to mechanical disc brakes in the way that they slow you down by clinching against a metal disc that is part of your wheel to slow you down.
There is one major difference though, which is that instead of using a wire to brake, the pads come together based on the pressure that passes through the tubes as you squeeze the brake lever.
Hydraulic brake systems are super reliable, even compared to mechanical disc brakes.  However, they are also quite hard to maintain and will most likely require professional assistance to get set up correctly.
Wheel Size
The size of your wheels will have a significant impact on the comfort of your ride, due to how large the bike will be and how much effort you have to exert in order to ride.
Typically, the wheels on an adult fat bike will have a diameter of 26" or 27.5".  The width of the tires will be between 3.8" and 5", with tires most commonly being 4.0" or 4.8".
The diameter and the width of the tires play slightly different roles in your riding experience:
Diameter
The wheel diameter influences both the size of the bike and the effort you will need to put in when pedalling.
Wider tires, at the 27.5" size, are typically found on larger framed bikes.  This means that you are less likely to get them on women's fat bikes, other than those with slightly larger frames.
This larger wheel size gives one main advantage over smaller diameter wheels.  Larger wheels take less effort to rotate, meaning that you essentially get more output for the same input as you would get with a smaller wheel.
Width
The width of the tire will influence both the effort that you have to put in to ride, as well as the stability of the bike on multiple surfaces.
Wider tires typically mean more grip.  This is because fat tires have a larger surface area and therefore more of the tire is in contact with the surface.
More grip can be good, for instance when you are riding off-road, riding on wet surfaces or on ice.  The extra grip will give you more stability and allow you to push your bike harder on these surfaces.
However, on smoother surfaces, this extra friction will slow you down and mean you have to work a lot harder to get up to a decent speed compared to other bikes.
Bike Weight
A further factor to consider is the weight of the bike, as this can impact how easy it is to ride your bike, as well as transporting and store your bike.
When riding a bike, the general rule is that the heavier the bike is, the harder it is to ride.  This is largely due to gravitational forces affecting the bike, meaning that a heavier bike is effectively being slowed down more when you are travelling uphill compared to a lighter bike.  This means that you need to put more effort in to get up the hill compared to when using a bike with a lot less weight and therefore you will feel more tired after riding a heavier bike.
All is not lost though! On the positive side, you get a much better workout and will lose more weight on a fat bike.  You also have the benefit that when riding downhill, your bike will go faster.
When it comes to storage and transportation of your bike, weight has the obvious disadvantage of making it hard to lift and carry around.  A lighter fat bike will therefore be easier for you to carry and lift up onto your bike rack.
Best Women's Fat Tire Bike
With fat bikes being fairly specialist, there are not a large number of good, women's only fat bikes.  The following bikes are either those that have been specifically designed for women, or come in sizes that will be suitable for the female size and shape.
---
Framed Minnesota Women's Fat Bike
Key Features:
Frame = Aluminum Alloy
Gears = 10 Gears
Brakes = Mechanical Disc brakes
Wheel Size = 26" x 4"
Weight = 34 lbs
The Framed Minnesota Women's Fat Bike has been designed specifically with the female rider's frame in mind, without compromising on the standards and features that you would expect from a unisex fat tire bike.
Unlike the majority of fat bikes, you will find on the market, this offering from Framed has been specifically designed with a shorter reach to the handlebars and a shorter distance to the pedals.  This will provide a greater level of comfort when riding as you will no longer feel that you are having to reach really far forward, or need to swivel in your seat slightly to effectively pedal.
This bike also has the great advantage of being very affordable.  Priced around the $1000 mark, it is a great value bike for those who don't want to break the bank.  You will also feel a little less guilty if you aren't riding it day in day out at this sort of price as well.
The bike weighs around 34lbs, this bike is pretty average in terms of weight when compared with other bikes in its class.  The Aluminum frame helps to keep the weight down when compared to steel frame bikes.
You also get a decent set of gears as well.  With a Shimano Deore M6000 wide-range 1×10 drivetrain, you will have a good range of gears for riding up hills and taking on some good offroad routes as well.  This, combined with a 28 tooth front chainring and an 11-42 cassette should allow you to put your foot down as well on flatter surfaces as well.
The Avid BB5 mechanical disc brakes also offer a good quality set of brakes to help slow you down.  Great for when going downhill and needing to stop in an emergency.
The wheels and tires are 26" x 4", giving you a good size wheel without adding too much width, which could slow you down.
This bike is a great option for the female cyclist looking to get started with fat bike riding, but wanting something more than a "throwaway" option.
Why we love it:
This fat bike is an absolute bargain for the features you get. If you're new to fat bike riding then this should definitely be on your list to buy.
---
Salsa Mukluk Microshift Advent X Fat Bike
Key Features:
Frame = Aluminum Alloy
Gears = 10 Gears
Brakes = Hydraulic Disc brakes
Wheel Size = 26" x 4.6"
Weight = 32 lbs (approx)
If you're looking for a fat bike that you can load up to head out on an adventure, then the Salsa Muklus Microshift Advent X is a great choice of fat bike.
This fat tire bike has been made for use on bike touring adventures, with lots of frame and fork mounts for adding different bike packing accessories.  This means you can load up with your extra water, snacks and sleeping gear.
The aluminum frame means you get a relatively light bike, weighing in at around 32lbs, which is on par with other aluminum fat bikes.
In terms of drivetrain, you get a MicroSHIFT CS-H104 10-speed cassette, with a gear range of 11-48t.  This is a good range of gears, giving you the option to drop down to an easier gear when pedalling up hills and a harder gear to get speed up on the flats.  Your front crank is a Samox 30t, which sits in the average for most fat bikes for women.
For braking, you get a set of Tektro HD-M275 hydraulic brakes, which will provide very reliable performance when needing to slow down suddenly.
As standard, you get 26" x 4.6" 45NRTH Dillinger tires, which are a great set of reliable fat bike tires, that you can add studs to at a later date for riding in ice and snow.
This is a great bike for the adventurer as you can ride it in pretty much any condition and it has lots of places to mount your gear as well!
Why we love it:
This fat bike has been designed for heading out on multi-day trips through any weather. A real delight for this keen on adventure.
---
Trek Farley 5
Key Features:
Frame = Aluminum Alloy
Gears = 10 Gears
Brakes = Mechanical Disc brakes
Wheel Size = 27.5" x 3.8"
Weight = 32 lbs (approx)
The Trek Farley 5 is a fantastic unisex fat bike brought to you by one of the best-known names in bike manufacturing.
This particular fat bike has been designed with all season riding in mind, meaning it will work just as well on the flats as it will on tricker terrains and can be used come rain or shine.
The aluminum frame provides a light base for this bike, which comes in at around 32lbs.  This is around the average weight for an aluminum framed fat bike, so you won't be carrying unnecessary weight with you out on the trails.
With this fat bike, you get 10 gears, which use the Shimano Deore M4100 cassette and shifters.  These are a step up in quality from some of the cheaper bike options on the list.  With an 11-48 cassette range, you also get a good blend of easy and hard gears, to help you put your foot down when needed as well as get more fine control when tackling trickier sections.  This is coupled with a 32 tooth main chainring, giving you slightly more power than some other options in this list.
The mechanical disc brakes utilise an Avid G2 Cleansweep brake rotor, known for reliability and solid performance.
The wheel size varies depending on the size of frame you buy.  For females, the small and medium frames will be the most suitable options as they fit those between 5' – 55.6" and 5'3.4" – 5'8.9" riders respectively.  With these frames you get a 27.5" wheel size and a 3.8" wide tire as standard, giving you a fast-rolling tire from the outset.  These can be swapped out for tires up to 27.5" x 4.5".
A great choice for those looking for a solid bike that will last them for many years to come.
Why we love it:
This bike has been built for speed, with narrower (but still fat) tires and a wider wheel. This combo means you can hit the trail hard and still expect a good amount of grip in the corners as well.
---
Specialized Hellga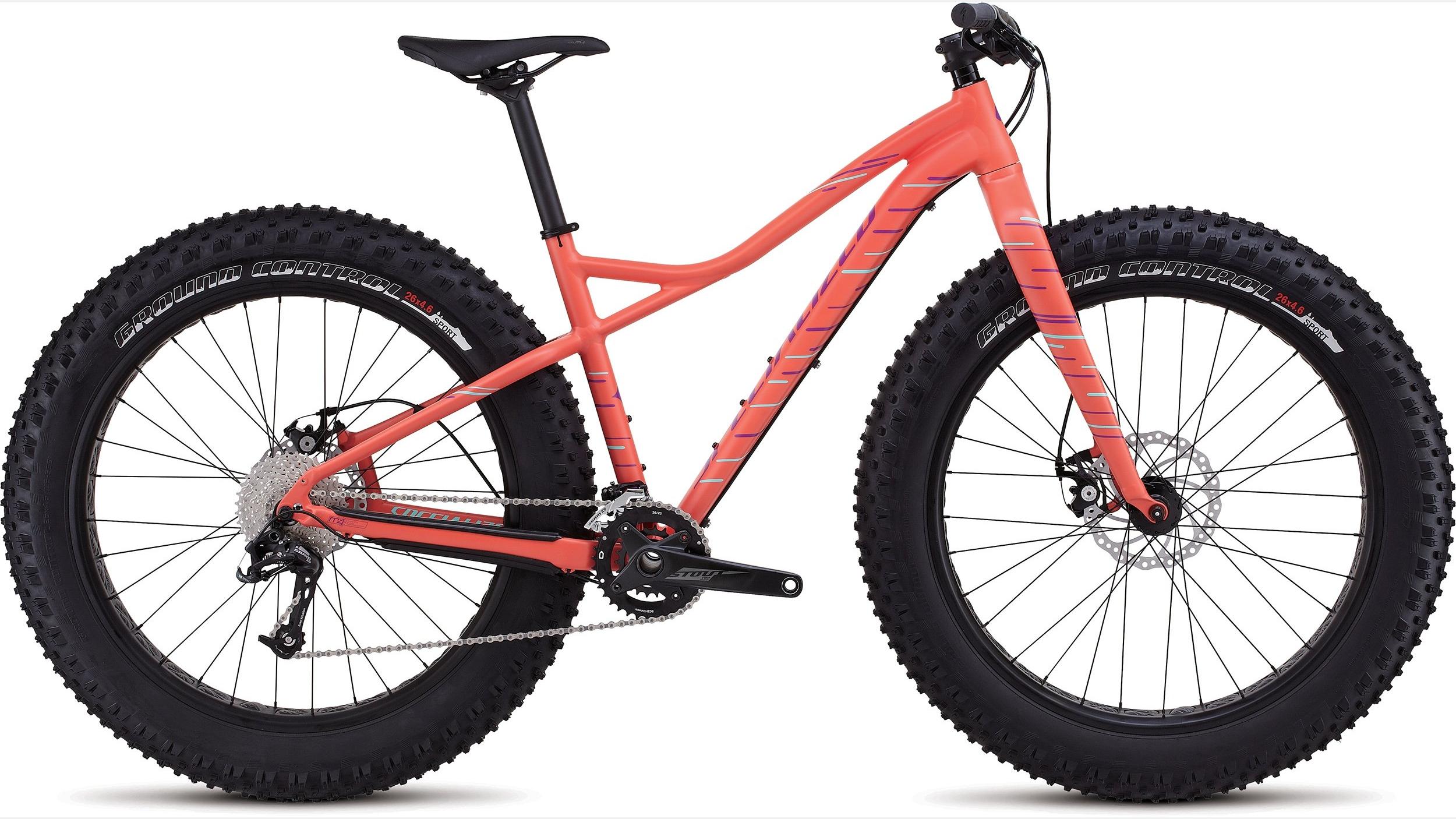 Key Features:
Frame = Aluminum Alloy
Gears = 20 Gears
Brakes = Mechanical Disc brakes
Wheel Size = 26" x 4.6"
Weight = 34 lbs (approx)
If you're after a bike that can take on any surface, whatever the weather, then the Specialized Hellga is a great choice for you.
This aluminum framed fat tire bike weighs in at 34lbs, putting it on the heavier side compared to other bikes.  However, you are getting a beautiful looking bike for your money that will definitely turn heads as you ride.
The real bonus with this bike is the large number of gears you get compared to the other bikes on the list.  With a Sunrace 10-speed 11-36t cassette on the rear and 36/22t chainrings on the front, you get 20 gears with this bike.  This range of gears really does make this an all-round beast of a bike, capable of tackling whatever you can throw at it.
In terms of brakes, this bike comes with Tektro Aries mechanical disc brakes, which are not just easy to maintain, but also very reliable as well.
This bike ships with 26" x 4.6" Ground Control tires as standard, giving you a really wide set of tires that are great for taking on snow, ice and loose dirt with ease.
A solid choice for the true adventurer looking for a great all-round bike.
Why we love it:
With its wide range of gear options, this fat bike really is going to serve you well on more technical rides, up and down hills and through inclement weather.
---
Framed Alaskan Carbon Studded
Key Features:
Frame = Carbon
Gears = 12 Gears
Brakes = Hydraulic Disc brakes
Wheel Size = 27.5" x 4.0"
Weight = 27 lbs (approx)
If having a light fat bike is a top priority for you then look no further than the Frames Alaskan Carbon Studded Fat Tire Bike.
This bike has been built with lightness in mind, using a carbon frame, which results in an overall weight of approximately 27lbs.  This is a whole 5lbs lighter than any of the other options on the list.
This bike comes with a 12-speed SRAM NX Eagle PG 1230 cassette, with an 11-50 gear range.  This gives you a great range for riding in easy, summer conditions to the harsher, winter conditions.  You can also take this bike up hills and won't experience much of an issue either.  On the front, you get a 30t Raceface Aeffect crankset.
The SRAM Level T Hydraulic disc brakes are very reliable and will give you the ultimate control when flying downhill or in bad weather conditions.
You also get 27.5" x 4" Terrene Cake Eater Studded tires as standard, meaning you can head out and ride in the snow and ice as soon as your bike arrives.
A great choice for those who want to ride in the winter months with maximum control and feel like they are floating on a cloud
Why we love it:
This bike is built for the winter and will serve you well if you live where you get a lot of snow and still need to get about. It is also really light, making it a great choice for those who don't want a bike that will feel sluggish and hard to manoeuvre.
---
Summary
I hope you have enjoyed this guide and I have helped you to find the perfect fat tire bike for you. For me, the Framed Minnesota Women's Fat Bike is the pick of the bunch as you get a lot for your money. If budget isn't an issue though, the Framed Alaskan Carbon Studded Fat Bike would be my go-to winter warrior, as this is designed perfectly for these conditions.